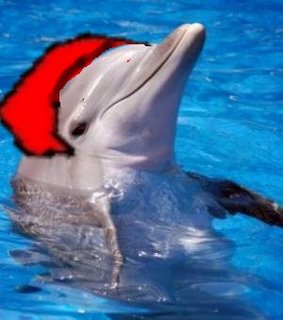 So if there is a bad place where bad people go when they die, I will secure my seat there with this post. That's your warning. Mom, you may want to skip this one.
A friend and I one day were talking about interesting things such as furries, plushies, RealDolls and combinations of these themes. You know, the usual topics. As mentioned in a previous post, of my favorite questions is, "If you had to be a furry, what animal would you be?" Try it sometime, it's a great conversation starter. Another one is, "If you had a choice between an animal or a dead person and you had to choose…" That one is a great conversation ender! Well, that night our topics strayed into bestiality, as topics of this sort tend to do. We asked ourselves a new question: "What sex acts could be performed only on a certain animal?" A quick-fire banter of responses ensued ranging from sea anemones, unicorns, octopuses and elephants. The end result, however, had us on the floor. Dolphins! Of course! We found later that this idea was not new:
"Dad, what's the blowhole for?"
"I'll tell you what it's not for, son. And when I do, you'll understand why I can never go back to Sea World."
- Chris and Peter in Mr. Griffin Goes to Washington
But, we assigned a term to the act: Blowholin'
Now you might at this time want to say, "Aaron, that's going too far!" or you are losing your lunch. Either way, it's funny to me. For a long time I resisted posting this on my blog because I … well, ew, you know? But, when I saw THIS I just could not hold it in any longer. I especially like the description, "This adorable plush orca features a realistic blowhole and a great facial expression." There will never be a better tool for those interested in marine plushie bestiality.
Now all we need are plush zombies and the circle will be complete.
-Aaron