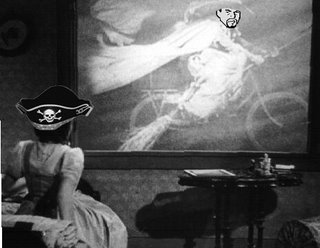 First and foremost, Santa Cruz Pirate Fest 2008 was a success! Much grog was drank, many games were played, much sailing was done, songs sung, wenches offended, children frightened, sailors put to bed. One of the greatest things to happen was the new friends we met! Thanks to everyone who came to camp or visit and to those who contributed above and beyond. This will be happening next year!
I was recently mulling about the idea of buying a house, but after looking at what I can afford and what is available, it just is not in the cards for at least a year. I might be able to do it but I would be, as my Mom puts it, house poor. I would rather just pay off debt and upgrade what I am renting without sacrificing my quality of life for now.
In other news, I was looking for a bike considering my close proximity to work and stumbled on this. I went there one day looking for a bike to build and it was really cool. it reminded me of the days back in the military where they had a car shop where you could rent the stalls and borrow all the tools you wanted. I learned a lot about cars there. I ended up not buying parts from there though because I got a great deal on a bike on Craigslist. Bought the bike 5 minutes after she posted it and it's great. In fact, I rode my bike to work today! Luckily I have a month membership to The Bike Church so I can make some modifications.
Things to fix on bike:
1. Basket in front looks sissy.
2. The gigantic swinging handlebars seem to be built more for looks than function.
3. I am wearing a helmet that belongs on Lance Armstrong but I am riding a 1-speed cruiser.
4. I need to do this more often. Those hills were killing me!
5. I wonder if I could replace the seat with a La-z-boy.
6. And then install a gas motor on the bike.
7. And then make some sort of shell around the bike to keep the wind out.
8. And then add two more wheels for stability.
9. Maybe some blinkers so I wouldn't have to use hand signals.
10. Hey look, I'm back to car
On a related note, one day I was driving downtown and suddenly there was a fleet of bikes riding toward me. Strange bikes, some of them with multiple frames welded together. I had seen something similar to this on a kids show called Design Squad where the kids met this guy named Skunk from a group called the Subversive Choppers Urban Legion. I am currently looking for information on this group and will be adding a whip antenna and a pirate flag to my bike.
UPDATE: This article was very informative. I think I might be riding my bike downtown on Friday.
EDIT: There was a request to see what the bike looks like, here you go!
-Aaron