I have some pictures to share. First, come take a look at my latest sailing trips HERE!
I also took a picture of a manhole cover.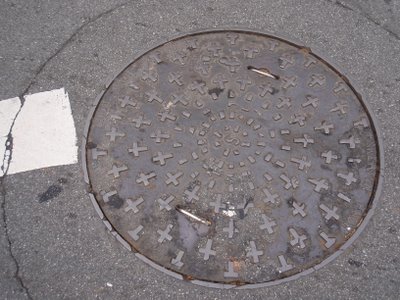 Notice there are little crosses all over it. My question is, are the crosses to keep the vampires out of the sewers?
Now, I need some pictures from you. I was inspired by Spinnwebe's "Left Nipple Collection" and a picture of Brian's left nipple that he sent me one day. I would like to associate a picture of as many left nipples in my phone contact list as I can. So, if you could please email me a picture of your left nipple and your phone number, each time you call me I will be greeted on my iPhone with a full-sized image of your food-dispensing or vestigial valve depending on your gender. I am asking for your phone number because I recently borked up my phone contact list with an ill-fated iTunes sync. As an example, I have provided a picture of my left nipple that you can use in your phone if you would like!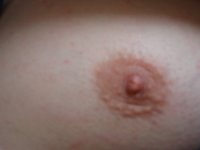 Thanks all and have a great day!
-Aaron