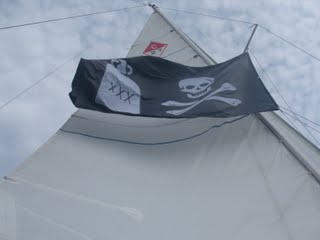 The above picture is my pirate flag, MY pirate flag, designed by me and sewn together by Leanne Fredrick to fly on my boat. Nice isn't it? I found out that Wells Fargo has a card customizing service that allows you to use an image to be printed on your ATM card. NEAT! I thought this would be the perfect picture! It was REJECTED! Why was this rejected? One of their guidelines for inappropriate images is:

Images of flags, unless it is one of the flag-related images from our photo gallery.
What flags are in their image gallery? Only the US flag. I have no idea what this policy serves. What flag could one have on their card that would offend someone? I personally think this is pure jingoist bullshit. Now I eagerly await your rebuttals in the comments section about why this policy makes sense.
-Aaron
P.S. They even anticipated me trying to upload the same photo again, the website automatically prevents it.