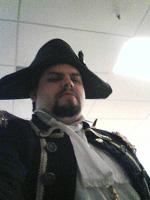 This year lads and lasses there be no holdin' back!
We'll plunder and ravage,
growl like a savage
dastardly piratin' horde.
All who would pillage
a quibblin' village
are welcome to swagger aboard.
Our mark will be made
With a buckle-swash blade,
As we steal away with our hoard.
And we'll game till we're bust
On drink, food and lust,
With no one to call our lord.
-Captain Groggy Swagger