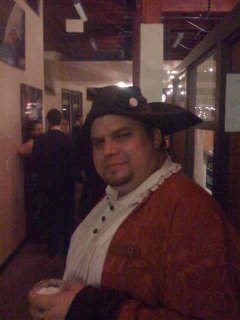 Today is my last day at Falafel Software. From there it is off into the wild blue yonder. Of course it is a scary thing I am doing but I think it will be well worth it in the end.
I attended a party at NextSpace in full pirate regalia. I thought it was a good idea to make a good first impression. Nothing breaks the ice like full pirate regalia. I talked to many people there. Discussions ranged from what I do for a living to re-enacting naval battles in Monterey Bay.
Today my mom is coming to visit. I'm ordering Italian food from Lillian's and we'll have dinner on the boat. Neat!
-Aaron