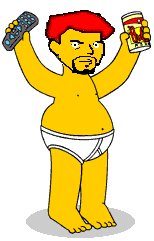 Just in case someone out there wants to buy me loot.
- Pitcher (for holding liquid beverages)
- Tongs. It's silly but there seems to be a tong shortage in Santa Cruz. Okay tangent time… Every single grocery store I have gone too has every
kitchen
utensil but tongs. Really! They have a selection of 5 different kinds of basters…
- One of those classic green desk lamps. If you could find one in red…
wowzas
.
- An
iPod
. It
could
happen!!!
- A
RealDoll
.
- If you do get any clothing black or primary colors preferred, and make sure it is 2XL because it has to fit my icon.
- A Jigsaw.
- A drink shaker.